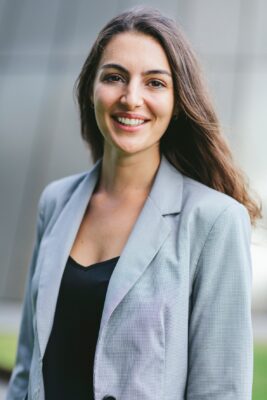 Antoinette graduated with her Masters in Speech Pathology at the end of 2020 at the University of Sydney and has enjoyed servicing a broad range of clients since then.  Antoinette works across the lifespan with a variety of clients with different communication needs. She enjoys working with other clinicians in an interdisciplinary and transdisciplinary model. She believes the best care comes from person &/or family-centered practice.
Antoinette has a particular interest in working within early intervention, early-school-aged intervention, working with school-aged children with developmental language disorder and other concomitant diagnoses such as Attention Deficit Hyperactivity Disorder (ADHD), Autism Spectrum Disorder (ASD) and Intellectual Disability (ID) and their teachers. She also enjoys working within the young-teen mental health space and adults. Antoinette is passionate about helping paediatric and adult clients with their feeding and swallowing conditions (dysphagia) and also likes helping adults who have neurological conditions as a result of acquired brain injury or progressive neurological disorders.
Antoinette took on leadership roles early in her career. Her greatest projects include supervising and supporting new graduate clinicians to help them achieve their professional goals and working with other Team Leaders and Heads of Clinical Development to design and implement communication assessment packages around the Greater Sydney Area and rural New South Wales and Tasmania areas.  She is also an advocate for bridging the gap between rural/remote communities and their access to affordable health care.
Antoinette's passion is making therapy fun and functional.