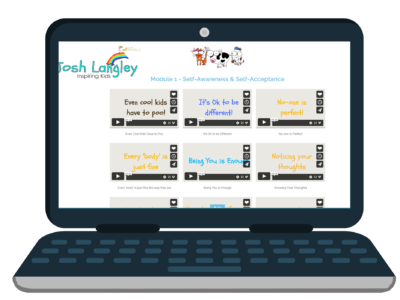 New to Talking Heads Speech Pathology is the Inspiring Kids Program. This program is a fun social-emotional group program that's making a real difference in the lives of all children, especially those with Autism, ADHD, anxiety, learning differences, or who have suffered trauma or bullying.
Created by Josh Langley, this group program helps children aged 5 to 12 manage big feelings and help build confidence.
INSPIRING KIDS CAN HELP YOUR CHILD:
Accept themselves for who they are.
Be kinder and less harsh on themselves.
Manage big emotions.
Notice and turn around unhelpful thoughts.
Help boost self-confidence
Help believe in themselves and their abilities
Helps create a safe space for them to open up and communicate.
To be braver and more confident in the world
The Inspiring Kids program will be delivered by Talking Heads Speech Pathology each term; and within school holiday intensives.
Also new!
The Inspiring Kids Program is now online! You can purchase the Inspiring Kids Home Program to do from the comfort of your home!  The child-friendly videos make learning about resilience, emotional regulation and self-acceptance fun and engaging. When you purchase the at-home version of Inspiring Kids, Talking Heads Speech Pathology does receive a small commission (at no cost to you) which goes towards purchasing new therapy resources, adding to our staff fruit bowl, or Tim Tams whichever comes first! It's a win-win!
Follow the link here to purchase the online version today!